Prezes Fundacji ZEST

mgr Eliza Walczak Corral
+48 600122149
elizabat7@hotmail.com
To whom it may concern,
This is to inform you that Eliza B. Walczak was an important part of the Drug reform movement in Israel and advised on strategy and tactics to the Green Leaf Party – a party dedicated to drug reform, social justice and the environment.
We highly recommend her as a person of high integrity and intelligence and commitment to social/medical drug reform that is needed to reduce the harm from drugs and bad drug laws.
Boaz Wachtel
Founder and former Chairman
Green Leaf Party
Israel
Gil.kopatz@gmail.com
This letter is to inform you that Eliza B. Walczak was an important part of the Drug reform movement in Israel ("Ale-Yarok" Green Leaf party that us dedicated to drug reform, social justice and the environment.).
Miss Walczak was our advisor on strategy and tactics.
I highly recommend her as a person of high integrity and intelligence and commitment to social/medical drug reform that is needed to reduce the harm from drugs in society.
Sincerely
Gil Kopatch
Chairman
Green Leaf Party
Israel
Gil.kopatz@gmail.com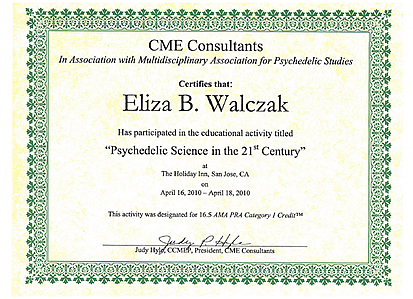 Michael F. Corral
849 Almar Ave.
Ste. C #434
Santa Cruz, Ca. 95060

miral49@hotmail.com
My name is Michael F. Corral. I am the Agricultural Director and the co-founder of WAMM (The Wo/Men's Alliance for Medical Marijuana). WAMM is a membership based medical marijuana collective in Santa Cruz, Ca. and the longest running MM organization in the United States. I am also a court qualified cannabis expert.This letter is to verify that Eliza Walczak has spent time in California doing an in-depth internship with WAMM as well as spent time working as my aid in various legal cases involving marijuana prosecution.
I met Eliza Walczak in Tel Aviv in May of 2009 when I was commissioned to go to Israel to consult with the Ministry of Health about the medical marijuana program that the government was in the process of building. At that time she was working with one of government licensed marijuana growers.
Eliza first came to California in July of 2009 at which time she was introduced to WAMM and it's members. She distributed a series of questions to obtain information pertinent to her continued studies in sociology. She also participated in the ongoing work in the WAMM community garden.
Her second visit to California was in November of 2009. This consisted of her making
deeper contact with the patient base to get a better understanding of patient needs regarding medical marijuana as well as the social stresses that are encountered by people with a multitude of illnesses. This was accomplished by attending our weekly meetings and continuing the work in the garden that was initiated during her first visit.
In May through June of 2010 she returned for the third session of her internship. Her work in the WAMM garden and at our weekly meetings continued but this time she was introduced to the criminal justice system in California. This introduction consisted of working with me as I met with defense attorneys, prosecutors and members of law enforcement. Her duties were viewing evidence, taking notes, learning to read police reports and helping me prepare testimony for presentation at trial.
Michael F. Corral